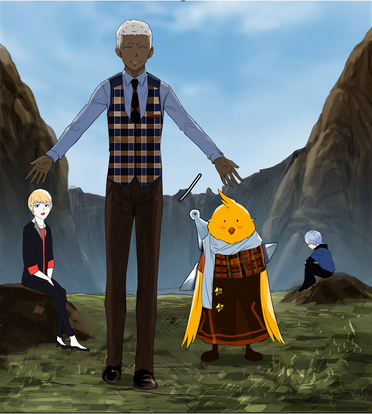 Edin is talking with one of the members at Koon's lodging, Novick . The member tells Dan that he is a spear bearer and warns him that the team that he's going to introduce to him is composed of dangerous individuals. When they shake hands, Edin realizes the guy is strong. Edin asks him why Koon wishes to climb the tower and he answers he is trying to get Rachel to the top.
The scene switches to Rachel's room where Koon is talking to Rachel. Rachel still pretends that she can't walk and misses Baam. She says that she saw Baam in her dream and says that she feels Baam is still alive. The rest of the team believes Rachel can't use her legs.
Meanwhile, Novick takes Edin to the place where the rest of the teammates are waiting.
Novick introduces Edin to the other four members: Apple (the searcher-information gatherer), Missionary Michael (their doctor/wave controller), Gyetang (Spear Bearer and cook), and Ran (Fisherman).
Later in the end, it goes back to Rachel's room where Koon is comforting Rachel. After Koon left Rachel's room, the later gets up from the bed and complains how Koon came in so suddenly. After getting out of her bed and stretching out, she tells herself that she is excited that the team is finally complete and will soon climb the tower. She shows her anticipation to see her Star-nim. Little did she know, Koon kept a lighthouse in her room and witnessed all that. He gets a call from Leesoo and tells him that he has finished collecting members and will soon move on and hopefully sees each other again quickly. When Leesoo asks how Rachel is doing. Koon tells him that she is fine and added that he is positively sure that Rachel tricked them the entire time.