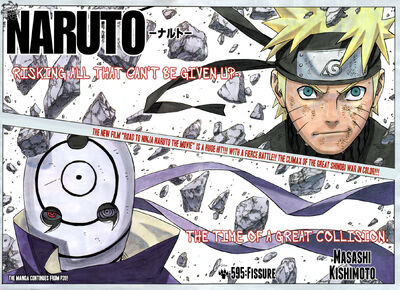 Formulating their strategy as Naruto produces a shadow clone, the shinobi agree that the use of feint attacks would be crucial in this battle because of Tobi's abilities. Moving directly towards Tobi, Naruto uses the Super Mini-Tailed Beast Ball while Kakashi asks B to hoist him into the air as he activates his Mangekyō Sharingan. Deciding that it was best to avoid direct contact, Guy takes out his pair of Sōshūga. Tobi, wielding his gunbai is able to stave off Naruto's attacks but ultimately has a harder time at things once Guy joins the fray. Using his nunchaku to counter Tobi's gunbai, Guy is able to send the masked man throttling towards Naruto and his Super Mini-Tailed Beast Ball. Using that opportunity, Kasashi activates Kamui with the intention of ripping the Demonic Statue of the Outer Path's neck off. However, the statue — which by this time was bleeding from the eyes and metamorphosing — is seemingly able to nullify the attack which confused Kakashi greatly, who immediately thinks of a possible reason for this, but it was not revealed what his thoughts were. As Naruto's attack is about to make contact, Tobi teleports, prompting Naruto to sense his intent and to anticipate Tobi emerging from the ground in a surprise attack. Dodging the initial attack, Naruto, now separated from the others, has a harder time blocking Tobi's gunbai. Kakashi imbues a kunai with the Lightning Release and once again calls out to B. Launching him across the battlefield, Kakashi easily cuts through a rock that separated him from Naruto and then launches the kunai at Tobi. Forced to become intangible, but not one to give up so easily, Tobi changed the trajectory of the kunai and sends it hurtling towards Naruto. Telling him to ignore the kunai, Kakashi uses Kamui once again to warp the kunai away. Regrouping as the last attack seemingly fails to land, the shinobi wonder how they were going to defeat Tobi. Just then, a tiny crack appears on Tobi's mask.
Ad blocker interference detected!
Wikia is a free-to-use site that makes money from advertising. We have a modified experience for viewers using ad blockers

Wikia is not accessible if you've made further modifications. Remove the custom ad blocker rule(s) and the page will load as expected.